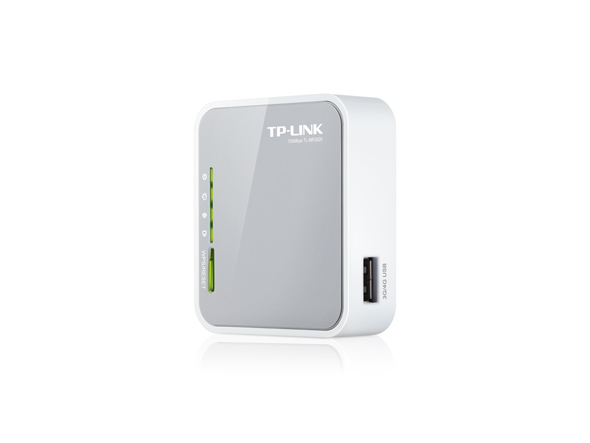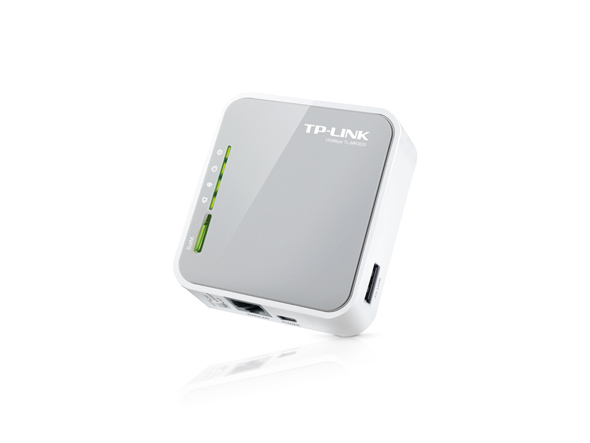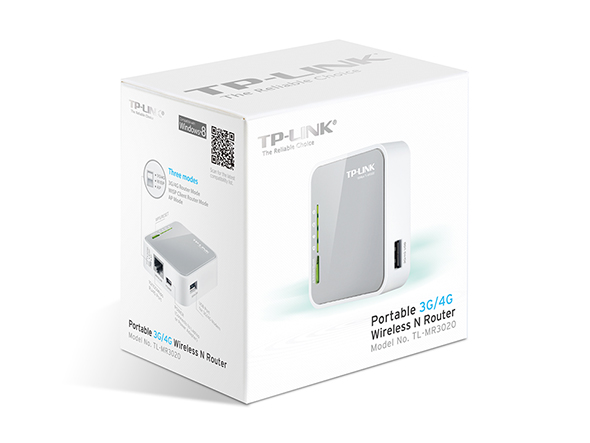 Portable 3G/3.75G Wireless N Router TL-MR3020
Een 3G mobiele verbinding delen, compatibel met 120+ UMTS/HSPA+/HSPA/EVDO 3G USB modems, getest in het veld.
Portable ontwerp, klein en licht genoeg voor onderweg, biedt gebruikers de mogelijkheid een mobiele 3G verbinding te delen, overal waar 3G dekking is.
Draadloos snelheid tot 150 Mbps
Drie werkstanden beschikbaar voor verschillende situaties: 3G Router, WISP Client Router en AP.
Met de 3G/WAN failover backup strategie kan de TL-MR3020 een stabiele Internet verbinding in stand houden.
Wat deze router zo bijzonder maakt, zijn het reisformaat ontwerp en de mini-USB aansluiting, waarop een laptop of netspanningadapter kan worden aangesloten voor de stroomtoevoer.
Met de stroomtoevoer van een laptop biedt de TL-MR3020 een draadloos platform dat kan worden gedeeld door iPads™, iTouches™, Android™ telefoons, Kindles™ en de meeste andere portable apparaten met Wi-Fi.
Reisformaat
Met het reisformaat is de TL-MR3020 klein genoeg om onderweg mee te nemen zodat je overal een 3G internetverbinding kunt delen wanneer er 3G bereik beschikbaar is.
Travel Router met 3G/4G Functie
Deel de vrijheid van 3G! Met stroomtoevoer van een laptop of netspanningadapter biedt de TL-MR3020 gebruikers de mogelijkheid heel eenvoudig een 3G/3.75G mobiele verbinding te delen met familie en vrienden in de trein, op de camping, in een hotel, bijna overal waar 3G/3.75G dekking is. Door een 3G USB modem op de router aan te sluiten, wordt ter plaatse een 3G Wi-Fi hotspot gecreëerd.De Router modus (AP Mode) maakt het mogelijk eenvoudig een internetverbinding op te zetten door gebruik te maken van een hotel WAN kabel. Ondertussen kan je de schakelaar aan de zijkant ook gebruiken om te schakelen tussen Travel Router Modus, 3G Router Modus enWISP Client Router Modus, afhankelijk van wat men nodig heeft
3G/4G Router Modus
Travel Router Modus
(AP Mode)
WISP Client Router Modus
Stroomtoevoer
TL-MR3020 is voorzien van een mini USB poort om hem met je laptop te verbinden. Met de voedingsadapter kan hij via het stopcontact worden opgeladen.
Opladen met
een voedingsadapter
Opladen via
de laptop
Functionaliteit van de Hardware
Interface
1 10/100 Mbps WAN/LAN aansluiting, USB 2.0 aansluiting voor 3G modem, mini-USB aansluiting voor stroomtoevoer.
Knop
Snel beveiliging instellen QSS), Reset, werkstandschakelaar

Externe Voeding
5VDC/1.0A
Afmetingen ( B x D x H )
2.9 x 2.6 x 0.9 in. (74 x 67 x22 mm)
Type Antenne
Internal Antenna
Draadloze Functies
Standaarden voor Draadloze Netwerken
IEEE 802.11n, IEEE 802.11g, IEEE 802.11b
Frequentie
2.4-2.4835GHz
Draadloos Zendvermogen
<20dBm
Draadloze Modi
3G Router, Travel Router (AP), WISP Client Router
Draadloze Beveiliging
Support 64/128 bit WEP, WPA-PSK/WPA2-PSK, Wireless MAC Filtering
Functionaliteit van de Software
Veiligheid
Firewall, MAC filtering, Denial of Service (DoS)
DHCP
Server, DHCP Client List, Address Reservation
Poort Doorsturen
Virtual Server, Port Triggering, DMZ, UPnP
Toegangsbeheer
Parental Control, Host List, Access Schedule, Rule Management
Overige
Certificatie
CE, FCC, RoHS
Pakketinhoud
TL-MR3020 router, installatie instructies, netspanningadapter, USB kabel, Resource CD, Ethernet kabel
Systeemvereisten
Microsoft® Windows® 98SE, NT, 2000, XP, Vista™ or Windows 7, MAC® OS, NetWare®, UNIX® or Linux.
Omgeving
Temperatuur gebruik: -10℃~60℃
Temperatuur opslag: -40℃~80℃
Rel. luchtvochtigheid gebruik: 10%~90% niet-condenserend
Rel. luchtvochtigheid opslag: 5% ~90%, niet-condenserend
Awards

Best Value

TL-MR3020 gained "Best Value" award from magazine PC Market in HongKong.

2012, HongKong

Mac User awards

TL-MR3020 wins the "Mac User" awards in UK

2012, UK

Good Product

TL-MR3020 Receives "Good Product" Award from Benchmark.PL. in Poland

2012, Poland

Super Design

TL-MR3020 Receives "Super Design" Award from Benchmark.PL. in Poland

2012, Poland

Super Mobility

TL-MR3020 Receives "Super Mobility" Award from Benchmark.PL. in Poland

2012, Poland

Editor's Choice

TL-MR3020 Wins Editor's Choice from 3DNews in Russia

2012, Russia

9 stars

TL-MR3020 receives 9 stars out of 10 from Komputer for Alle Magazine in Denmark.

2012, Denmark

Recommend

TL-MR3020 receives anbefaler from Alt om DARA in Denmark

2012, Denmark

Best Buy

TL-MR3020 receives Best Buy award from ComputerBild in Russia

2012, Russia