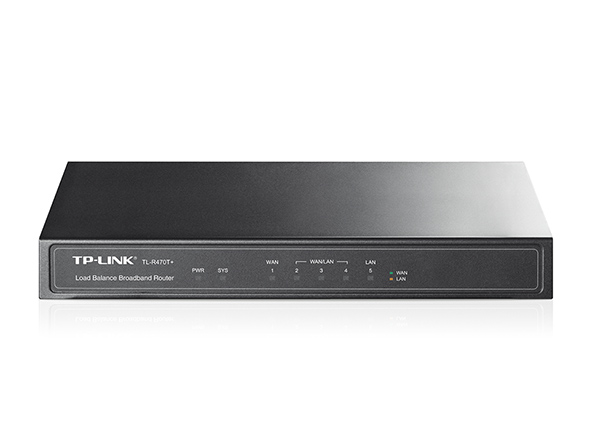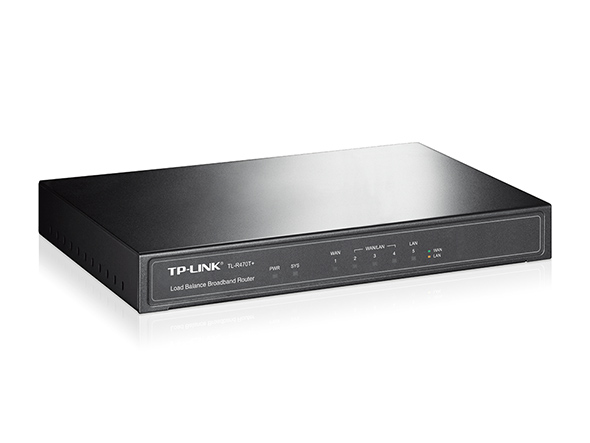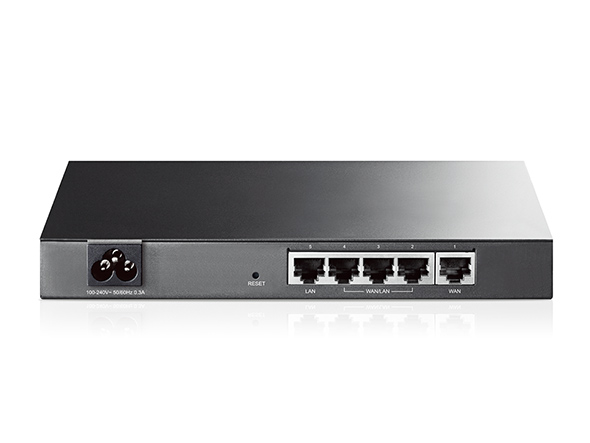 Load Balance Broadband Router TL-R470T+
Verwisselbare WAN/LAN-poorten voor een flexibele toewijzing van de netwerkmiddelen
Meerdere Load Balancing strategieën voor het maximaliseren van de totale bandbreedte
Geavanceerde QoS-functionaliteit komt gegarandeerd tegemoet aan de vereisten van verschillende bandbreedtetoepassingen.
Wat dit product voor u kan doen
De TL-R470T+ Load Balance Broadband Router heeft een sterkere dataoverdrachtscapaciteit en stabiliteit, en is kostenefficiënt voor netwerken in plaatsen als internet cafés en kleine kantoren.
Drie verwisselbare LAN/WAN poorten
De TL-R470T+ heeft drie verwisselbare poorten die kunnen worden ingesteld naar of LAN of WAN, zodat de router max. vier WAN poorten ondersteunt om te voldoen aan verscheidene internet toegangsvereisten met één apparaat. De router heeft ook een geïntegreerde smart load balancing functie die automatisch de meest efficiënte lijn selecteert al naargelang ladings- en bandbreedtevereisten, waarmee de gebruiker wordt voorzien van zowel beschikbare netwerktijd als betrouwbare Ethernet connectiviteit. Door de fabrieksstandaard is de TL-R470T+ ingesteld om te werken in de dubbele WAN poort modus: Poort 1 en poort 2 werken als WAN poorten, terwijl de poorten 3~5 als LAN poorten werken.
Superieure prestaties en hoge stabiliteit
De router heeft een processor bedoeld voor netwerken, geklokt op 400MHz voor krachtige verwerkingsprestaties, een interne netvoeding voor een lange termijn werkingsstabiliteit, en professioneel ontwerp met bliksembescherming om uw investering zo goed mogelijk te beveiligen.
Beheer voor een vloeiende netwerkervaring
Door het integreren van multipole load balancing strategies, IP en poort gebaseerde bandbreedte controle, sessielimiet, domeinfilteren en IP/MAC adres filteren, biedt de TL-R470T+ een vloeiende netwerkervaring, zonder vertraging en wegvallen van de verbinding.
Gemakkelijk in installatie en gebruik
Met het gebruiksvriendelijke webgebaseerde beheer, beheer op afstand en configuratie backup & herstelfuncties, biedt de TL-470T+ veel uitgebreide functies die gemakkelijk zijn in te schakelen en te behouden, vooral voor bedrijven die geen IT- personeel hebben.
Note: Above information apply to TL-R470T+ version 2.0 & 3.0 ONLY.
Dynamic IP, Static IP, PPPoE, L2TP, PPTP en BigPond opties voor kabelverbindingen met het internet maken de verbinding eenvoudig
Met ouderlijk toezicht op tijdsbasis kunnen ouders en beheerders voor kinderen of personeel een toegangsbeleid hanteren.
Via IP-gebaseerd bandbreedtebeheer kunnen beheerders bepalen hoeveel bandbreedte aan elke PC wordt toegewezen, waardoor de prestaties van VoIP of videotoepassingen worden verzekerd
Ingebouwde DHCP-server ondersteunt de verspreiding statisch IP-adres
Ingebouwde firewall ondersteunt filteren van IP-adressen, domeinnamen en MAC-adressen
Functie voor binding IP en MAC verhindert effectief ARP-virusaanvallen
Krachtige DoS-beveiliging beschermt uw netwerk
Virtual Server, Special Application, DMZ-hosting en UPnP helpen gebruikers hun eigen servers bouwen
DDNS helpt gebruikers met gemak met beheer op afstand om te gaan via een eigen domeinnaam
Functionaliteit van de Hardware
Standaarden en protocollen
IEEE 802.3, 802.3u, 802.3x
TCP/IP, DHCP, ICMP, NAT, PPPoE, SNTP, HTTP, DNS
Interface
1 Fixed Ethernet WAN Port
1 Fixed Ethernet LAN Port
3 Changeable Ethernet WAN/LAN Ports
Netwerkmedia
10BASE-T: UTP category 3, 4, 5 cable (maximum 100m)
EIA/TIA-568 100Ω STP (maximum 100m)
100BASE-TX: UTP category 5, 5e cable (maximum 100m)
EIA/TIA-568 100Ω STP (maximum 100m)
Knop
Reset Button
Uitgangsvermogen
Internal Universal Power Supply
AC100-240V~50/60Hz input
Flash
4MB
Dram
64MB
LED
PWR, SYS, WAN, LAN, WAN/LAN
Afmetingen ( B x D x H )
8.2*5.0*1.0in. (209*126*26mm)
Functionaliteit van de Software
Kwaliteit van de Dienst (QoS)
IP and Port Based Bandwidth Control
Session Limit
WAN-Type
Dynamic IP/Static IP/PPPoE/
PPTP/L2TP/BigPond
Management
Web Management
Port Mirror
Restore & Backup Configuration
Remote Web Management
Basisfunctionaliteit
DHCP Server, DHCP Client
MAC Address Modify/Clone, VPN Pass-through
Static Routing, Dynamic DNS
Multi-WAN Functionaliteit
WAN Load Balancing
Detecting Online
Poort Doorsturen
Virtual Server
Port Triggering
DMZ Host
UPnP
Dynamische DNS
upports Dyndns / PeanutHull / Comexe / No-IP
VPN-Doorvoer
PPTP/L2TP/IP Sec
Firewallbeveiliging
IP Address Filtering
MAC Address Filtering
Domain Name Filtering
DoS Protection
Basisfuncties
WAN verbindingstype
Static/Dynamic IP, PPPoE, PPTP, L2TP, Dual Access, Bigpond Cable
DHCP
DHCP Server/Client, DHCP Address Reservation
MAC Kloon
Modify WAN/LAN MAC Address
Switch instellingen
Port Mirror, Rate Control, Port Configuration, Port VLAN
ADVANCED FUNCTIONS
ACL
IP/MAC/URL/WEB Filtering
IGMP
IGMP Proxy/IGMP Snooping
Forwarding
Virtual Server, Port Triggering, DMZ
Load balancing
Policy Routing, Link Backup
Routing
Static Routing
Beveiliging
FTP/SIP/PPTP/IPsec/H.323 ALG, DoS Defence, Ping of Death, IP/MAC Binding
Verkeersregeling
Bandwidth Control, Session Limit
Beheer
Services
PPPoE Server, E-Bulletin, Dynamic DNS, UPnP
Onderhoud
Time Setting, Daylight Saving Time, SNMP, Diagnostics, Firmware Upgrade, Factory Defaults/Reboot, Backup/Restore, System Log, Remote Management, Statistics
Overige
Certificatie
CE, FCC, RoHS

Pakketinhoud
Load Balance Broadband Router TL-R470T+
Power cord
RJ-45 Ethernet Cable
WAN/LAN Ports Configuration Guide
Resource CD
Systeemvereisten
Microsoft® Windows® 8, 7, Vista™, XP of MAC® OS, NetWare®, UNIX® of Linux
Omgeving
Operating: 10%~90% RH Non-Condensing
Storage: 5%~90% RH Non-Condensing